Ask yourself with compassion and radical honesty…
Do you find yourself continually returning to painful or destructive relationships?

Do you yearn for true connection in a romantic relationship but force yourself to be content with casually dating or staying with a partner who isn't emotionally available or ready to commit?

Are you overly preoccupied or distracted by your romantic relationships, dating, or sexual and/or romantic obsessions?

Do you fall on the other end of the spectrum and avoid emotional and sexual intimacy all together as a way to avoid feeling vulnerable?
If you answered "yes" to any of these, you may be have an unhealthy relationship to love and sex. These questions may feel uncomfortable to identify with and accepting that you may have an issue can leave you feeling ashamed, confused, and powerless.
Let's face it. We live in a society that doesn't teach us how to have healthy, loving relationships. And many of us were not raised in homes where our caregivers modeled that to us either. Unhealthy patterns, beliefs, and behaviors around love and sex can feel overwhelming and even debilitating. For women especially, these issues can feel isolating and are often misunderstood and understated in the mental health community.
Rise of the Feminine + Breaking the Cycle of Toxic
Love and Sex Patterns in Women
The feminine is on the rise in our culture. Despite this, we still live in a patriarchal society that enforces toxic beliefs around love and sex. This narrative often sends messages like:
"You need to sacrifice yourself for a relationship."
"Being sexual means you're a "slut"."
"Love and marriage will save you and bring true happiness."
"It's weak or needy to want a committed relationship."
"If you love someone enough, they will change."
Cultural beliefs around love and sex certainly impact men as well (i.e., men can't be emotional, only men can be addicted to sex, men need to prioritize career over love, etc.) but society often positively reinforces these messages. For women, there's a much more profound impact from problematic beliefs that not only sends extremely mixed messages but also breeds shame.
Women are left with a confusing idea of what love and sex are and how to navigate this in their day-to-day life. Because these messages breed shame, they also breed secrecy. As a result, women can become addicted to love and sex (or the reverse and be intimately "anorexic"). Many women struggle with these issues and no one is talking about it. We're supposed to have it all together and play it cool. In fact, many of these beliefs and behaviors have become so normalized, women often times don't realize they have a problem. However, ignoring your problems with love and sex can cause suffering in other important life areas, such as emotional health, spirituality, creativity, work, paying the bills, family life, and friendships.
Enlightened Love:
Holistically Healing Love + Sex for Women Services
Just like my holistic healing retreats, I work with my clients from a holistic perspective. This means that we're addressing your concerns with love and sex by looking at imbalances in the mind, body, and spirit. With holistic coaching, clients receive a variety of tools as a way to address their healing—this may be through breath work, yoga, art-making, meditation, reading, and more. It's a matter of having the right tools, guidance, and understanding why you've established these patterns. With this consciousness you can begin to create a healthier relationship with yourself, love, and sex.

If you feel ready to heal and break free from your issues around love and sex, here is how I can help you:

Enlightened Love: Assessment
for Women - $99 *Special Launching Price*
Do you suspect that you may have an issue with love and/or sex but you're not quite sure where you land in all of this and what to do about it? During this 60-minute session you'll receive a holistic evaluation around your relationship to love and sex. Together, we will explore presenting issues and obstacles. At the end of your session, you will receive a custom resource guide to help you move forward on your path to healing. This service also includes follow up email consultation after our session. This offering is best suited for those who are newer on their path to healing when it comes to their own issues around love and sex, who are wanting to gain a basic understanding of how these issues influence their well being, and who are needing insight on how to move forward into their healing journey.
Enlightened Love: Coaching Package for Women - $300/month *Special Launching Price*
Maybe you already know that love and sex is a personal challenging life area and you're ready to dive into more consistent, deeper work. This is a month-to-month commitment that includes three, 60-minute holistic coaching sessions per month, via video chat. Together we will unpack the root causes around your love and sex issues and help guide you on the path to long-term healing. Sessions can include holistic coaching, meditation, breath work, art-making, and journaling. Clients will also have email access in-between sessions. This service is a wonderful option for those who have some familiarity and knowledge around their issues with love and sex, who are ready to conquer their wounding with love and sex, and who are seeking consistent one-on-one guidance and support.
Enlightened Love: Coaching and Support Group for Women - $100/month *Special Launching Price*
Find solace in a group setting with other women who are also on their journey to healing their own issues with love and sex. This group will meet once a week, via group video chat, for three months. Members will also receive access to a private Facebook group for support in between sessions, as well as email access to Kelsey. The Enlightened Love: Coaching and Support Group is best for those who currently have some insight and basic understanding around their issues with love and sex and who would enjoy on-going support through a community of women who are also on their paths to healing.
How do I know if your services are right for me?
Great question! All interested participants will be required to have a phone interview with me prior to committing. This is a way for me to see if this would indeed be an appropriate fit for you and your emotional needs. Here are some other things to consider…
Enlightened Love: Holistically Healing Love + Sex Services are for women who…
Are ready to do the work and make a change.

Have had some foundational experience in traditional psychotherapy.

Are interested in addressing emotional wellness from a holistic approach.

Understand that this is not a quick fix. True change takes time and consistency. There's no doubt that there will be break-throughs and "aha" moments. But true healing is about the relationship with yourself and how much you put in. As with any relationship, it takes your time, attention, and steady presence.

Desire healthy, conscious relationships with others and herself.
These programs are not designed for those who…
Are struggling with an active, untreated substance addiction.

Are currently engaging in self-harm or suicidal behavior.

Are needing more intensive trauma work or treatment.

If you are currently in a state of crisis and need immediate assistance please contact Crisis Support Services at 1-800-273-8255 or text at 839863.

Enlightened Love Testimony
"I was always flirty or boy crazy as a teenager, always a new crush to swoon over. As I got older it never really changed in terms of relationships, I just added sex into the mix. Surely if a guy had sex with me it meant he loved me, right?
No, no it didn't thats a lesson id learn the hard way. I'd meet someone and fall for them, hard. It never worked out, over and over. When I met my husband I felt so desperate I looked passed dozens of red flags because he "loved" me; It quickly went bad and I left.After my marriage I became very promiscuous dating many different men always left feeling unfulfilled and not good enough. It was becoming clear to me that something was off I reach out to Kelsey and booked a retreat.
The environment Kelsey creates is comfortable and safe. You can tell she truly cares about you by the way she intently listens as you speak, soaking in every detail of your story. It was clear to Kelsey, almost immediately, that taking a look into love and sexy addiction would serve me. When we started talking about this topic I became uncomfortable, Kelsey compassionately held space for me as all of the dots began to connect, why relationships never worked, why I used my body to find love, why I always found myself in the same pattern.We began working through some traumas i experienced as a child, it's indescribable what that work is like, maybe freeing. We set goals and developed tools to help me live life without the coping mechanism of love/sex addictions. Kelsey guided me to SLAA a nation 12 step program, I now go to two meetings a week and it is so helpful.I am so grateful for this retreat, it shifted my life. I am so grateful for Kelsey without her love, support and guidance I may have never made it."
- Hilary, New Jersey
I'm ready to experience Enlightened Love!
To get started please fill out the form below and I will contact you with the next steps.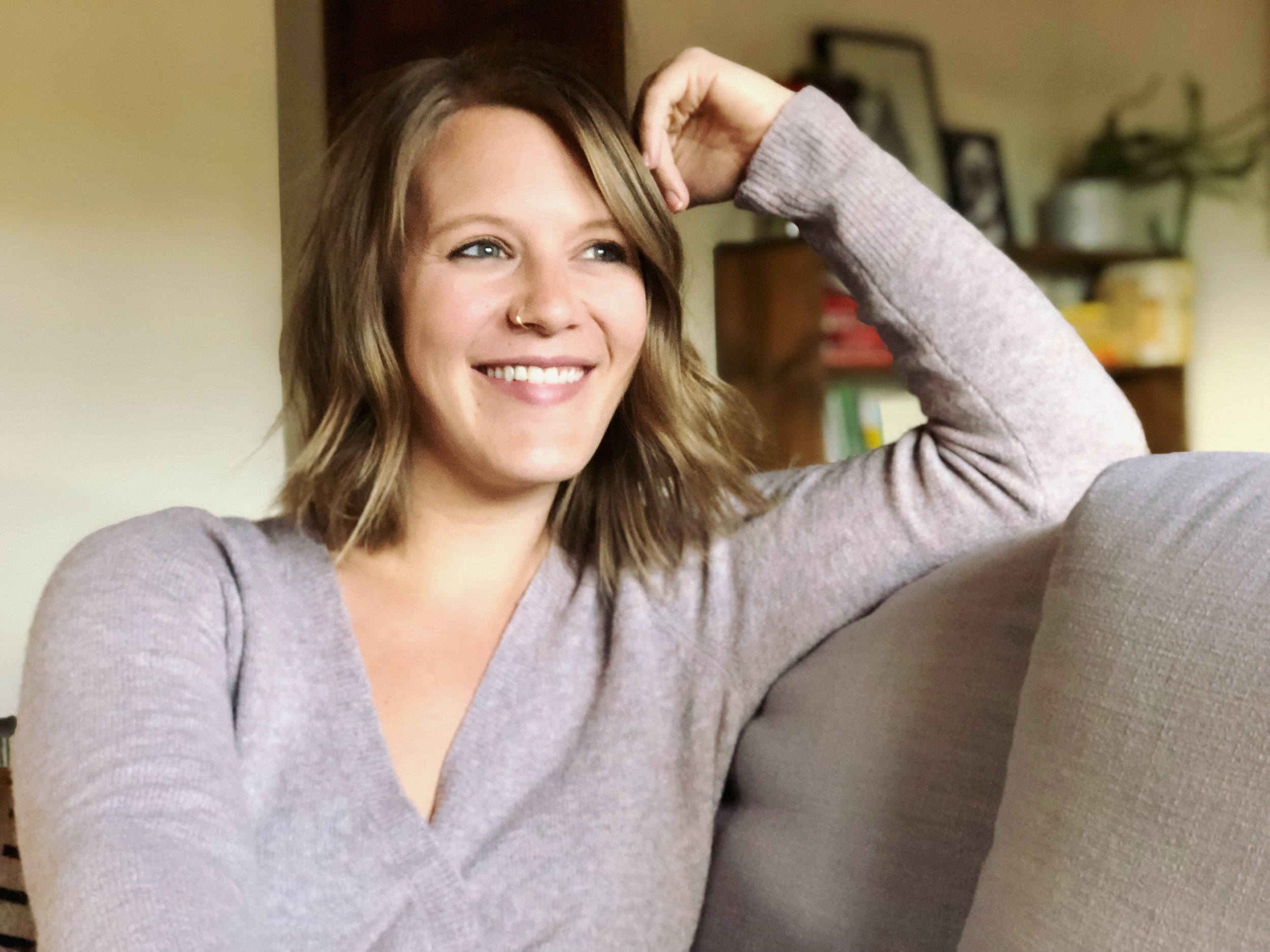 Kelsey Ullrich, LMHC, CYT, and Holistic Coach
Why work with me? I get it. There are a lot of self-proclaimed experts on love and sex out there. What makes me different? First of all, I teach and coach not only from a place of professional experience but also personal. I too, once struggled with toxic relationships and behaviors around love and sex. Relationships that were abusive, neglectful, and even addictive. At one point I even believed it would be impossible to ever have a healthy, loving relationship. Through my own journey and healing I discovered the root cause to my own dysfunction in love and sex. Today, I am in a loving partnership and finally feel worthy of healthy, stable love. It hasn't been an easy journey. But worth the work. This began with learning how to truly love myself. For the women who struggle with love and sex, I want you to experience this sense of liberation too. I want you to know you're not alone and it's okay to struggle in this life area. Most of all, I want you to know that healing is possible.